Late buses still an issue
Staff shortages create hour long wait times for students.
Ever since the beginning of COVID-19 employers have been in dire need of employees. It's no different for Pinellas County schools, which is short bus drivers countywide.
"To be fully staffed we need around 414 drivers. We are currently about 80 drivers short of that number. … Right now, we have about 80% of our positions filled, which is comparable to slightly better than other districts," Pinellas County director of transportation Clinton Herbic said in a recent email.
The situation is improving as measures have been taken to increase staff, including merging bus routes, offering better pay and bonuses.
"The situation is improving, we have decreased the number of open positions by about 20," Herbic said.
Lakewood head of transportation Cristina Calderon said she has seen improvement at Lakewood.
"Now it's only like one or two late buses instead of five," she said.
Late buses also affects student morale.
Freshman Jade Lucas said her bus is late nearly every day, both in the morning and the afternoon.
"The bus used to come at 6:40 (a.m.); now it comes anywhere from 7 to 8:30," she said.
In the afternoon, after the 1:55 p.m. bell rings, she and her friends wait about an hour in front of the school near the office before her bus comes.
"It's not cool, because at the end of the day I end up losing my water bottle and being dehydrated and still have to walk home (from the bus stop)," after her bus finally comes, she said.
But she said she doesn't have any other option.
"I'm still riding the bus because I'm only in the CAT program for the bus transportation," Lucas said.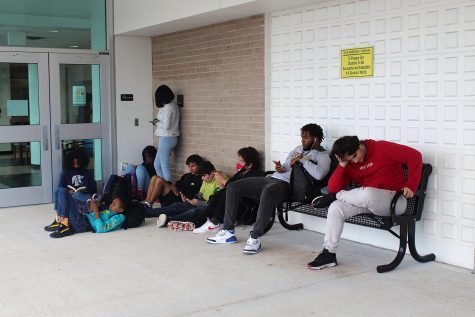 Junior Alec Khitlik said he would normally prefer to take a bus home, but after waiting for it for so long so many times, he decided instead he would catch rides with his friends.
"I have to pay gas money for friends. … It's faster than taking a bus, but it's expensive," Khitlik said.
In addition, waiting so long for a bus cuts into students' personal time, when they could be doing schoolwork.
"If I were to wait for the bus for an hour it would take up a lot of time for homework, and all my other personal things I want do," Khitlik said.
Certain emergency changes to attract and replenish staff have been made including raising the pay to $20 an hour, overtime for trainers to conduct new driver training outside of normal hours and creating new routes for more efficient bus travel.
"The lack of applicants is the main factor …all businesses are suffering right now due to the lack of applicants for open positions," Herbic said