Lakewood gets two new APs
New assistant principal Cristina Calderon, who replaces Andrew Oyer, used to work at Pinellas Technical College.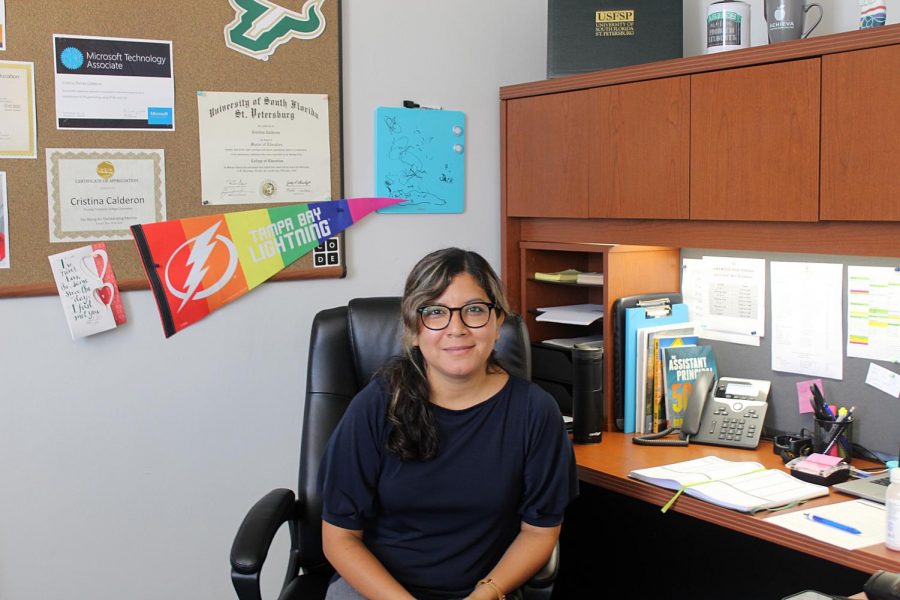 New Center for Advanced Technologies assistant principal Cristina Calderon has a helpful mindset for students here at Lakewood.
"I love building relationships with my students, teachers and my administration team," she said.
This year is her first year as an assistant principal. Before she was a web development teacher at Pinellas Technical College.
Calderon got her AA degree at the University of South Florida and then a bachelor's degree in business education at St. Petersburg College, Gibbs campus. She then attended USF St. Pete for her master's degree in educational leadership.
"I think being a teacher was great… (but) I wanted to do more than just help the classroom. I wanted to help the school," Calderon said.
Calderon wanted to be a leader and show other Hispanic girls and students that they can grow up to be in a leadership position, where they can make schoolwide changes.
"Your voice will be heard," she said.
She decided to become an assistant principal for the CAT program at Lakewood because she loves computers.
"I knew the CAT program would be a great fit," Calderon said.
She said this year she is looking forward to helping principal Erin Savage, students, teachers and parents. She said she is also hoping to get more community involvement even if she must provide them with the help they need virtually.
Calderon's goals for the year are to try to get back to normal as much as possible considering the pandemic, bring back all the Lakewood students safely and finish this year strong with end-of-year course exams and advanced placement tests. One of Calderon's hobbies is paddle boarding.
"Yesterday, I went on John's Pass at Madeira Beach and I just sat there and looked at all the dolphins. It's just the best social distancing you can do," Calderon said. In her free time, she likes to watch movies with her boyfriend, listen to music and play with her 6-year-old.
"He keeps me sane sometimes, and sometimes he drives me crazy. But for the most part he lets me forget about work and I get to just dive into a cartoon movie with them or play some Legos," Calderon said.
Assistant principal Laura Mudd said Calderon is adjusting well to her responsibilities, which include managing the buses and overseeing textbook distribution.
"She's done a great job of just adjusting and getting to know the kids and getting to know the families," Mudd said. "She was a good fit coming in…and then just her personality and the way that she adapted to different things here has been great for the school. … Parents and kids seem to really like her," Mudd said.