Hundreds of gifts headed to Lakewood Elementary children
For the second year in a row, the National Honor Society put together a Giving Tree to help brighten the holidays for families.
Last year was the start of this tradition, and this year it's back: The Lakewood National Honor Society organized a Giving Tree for Lakewood Elementary to help children in need for the holidays.
The Prometheus Chapter of NHS is run by media specialist Heather Robinson, who put forward this idea during the pandemic when people were in need more than any time before. Robinson worked in elementary schools before coming to Lakewood, so younger students hold a special place in her heart.
"We wanted to help the community," she said.
For the Giving Tree event, members wrapped and will be transporting gifts brought in by staff and students for Lakewood Elementary schoolchildren. They will also be making ornaments. All gifts were due Dec. 6 and will be taken to the children on Dec. 15. Robinson had a list of specific gifts at the library upon request.
Robinson said students and staff brought in about 200 gifts, including 10 bikes and three scooters. She said 11 Lakewood faculty members and their families and friends, four students and their families, one class of English teacher Theresa Munson's, two classes of health science teacher Erika Miller's and three Bay Vista Fundamental teachers donated gifts for the project.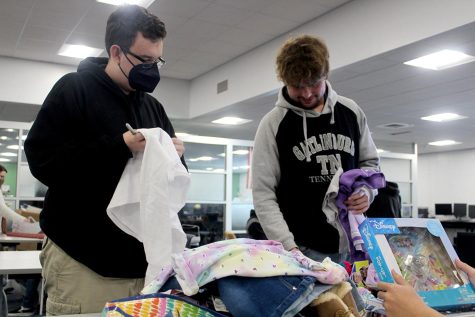 "Reilly Webb and Nicole Bundy were my MVPs for this project," Robinson said. "They purchased items, wrapped tons of gifts, helped to organize, etc. They deserve a little shout out."
New to NHS this year, junior Valerie Lambert said she wanted to make the most of this event. She made ornaments and wrapped gifts specifically, but she wanted to help in any way possible when the project was announced. She says it's really easy to be excited for this type of thing because it's "for a good cause."
"It's kind of bittersweet. I feel bad they need to be helped in the first place, but it also feels great to give them exactly what they wished for," Lambert said.
Junior Tezmond Savander was also interested in this project from the start. New to NHS, he also wants to help out with transportation and wrapping gifts.
"I plan to be as involved as everyone in NHS should be," Savander said.
He and some of his friends planned to work on the project together in the media center to brighten the holidays for the elementary students.
"It's a really cool thing to be a part of. I get to help kids have a better Christmas," Lambert said.