After 5 years Fall Out Boy is back
Eighth studio album So Much (For) Stardust by hit rock band Fall Out Boy was released March 24.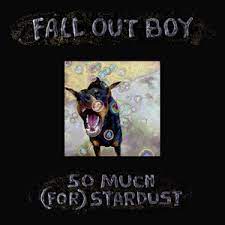 After five years of making singles here and there and hinting at a new album, the well-known rock band Fall Out Boy has finally delivered, and with thirteen new songs it's truly spectacular. Incorporating their old styles of playing and rhythmic songwriting techniques with their newly reformed lyricism skills, So Much (For) Stardust has new and old fans alike in tears, cheering, dancing and of course, celebrating their favorite band's return to the music world.
Starting in 2001, the Illinois-based band was originally made of Pete Wentz, Patrick Stump, Joe Trohman, Ben Rose and John Flamandan though later Rose and Flamandan left and current drummer Andy Hurley joined. Their first album Take This to Your Grave debuted in 2003. Since then, the band has skyrocketed in success and popularity as more music has come out and their punk-rock pop-rock style has solidified in the modern music world, especially finding fame in a few certain songs from each album. Some of these include 2005's "Sugar We're Going Down," and "Dance, Dance," 2007's "Thnks fr th Mmrs," 2013's "My Songs Know What You Did in the Dark (Light Em Up)" and many more.
With 2015's rise to fame and their release of three more studio albums, at least three songs from each could and still can be found on radios or on music billboards. The band has done many tours and shows in all parts of the world in their time, and they have a new worldwide tour planned to begin summer of this year.
Fall Out Boy has won a variety of awards and nominations as well, some of which include the Alternative Press Music Awards' "Artist of the Year" in 2014, multiple Kerrang! awards including "Best International Band" in 2014, five individual Teen Choice Awards and multiple MTV Music Video awards ranging from the early 2000s to as recently as the end of the 2010s. They have been nominated for many others, such as those from Billboard Music and even Grammy nominations in 2006 and 2020.
So Much (For) Stardust was released March 24, and is the eighth studio album in their discography. It was released under Fueled by Ramen LLC and DCD2 record labels. After 20 years of a broken record deal with Fueled by Ramen LLC, this is the first time back with them since 2003's Take This To Your Grave. This comeback album has 13 tracks and is 44 and a half minutes long.
Personally, I have been a fan of the band since 2017 and having been a part of this community for so long, this new age of Fall Out Boy brings a proud smile to my face when anyone mentions it in conversation or when the song appears on my Spotify.
The track list is "Love From the Other Side," "Heartbreak Feels So Good," "Hold Me Like a Grudge," "Fake Out," "Heaven, Iowa," "So Good Right Now," "The Pink Seashell (feat. Ethan Hawke)," "I Am My Own Muse," "Flu Game," "Baby Annihilation," "The Kintsugi Kid (Ten Years)," "What a Time To Be Alive" and "So Much (For) Stardust."
Though that information above really doesn't give an insight into the actual thing, now does it? If you were already a fan of the band, sure, the fact that there is a new album might be enough to have you going to Pandora or iTunes, but many won't be convinced that easily. And entirely fair! Kudos to you, reader, for being a picky music enthusiast – but I think I'll be able to convince you with an overview of five specific songs.
Starting off the album strong is "Love From The Other Side." This is the second-longest song, sitting at around 4 and a half minutes, and I genuinely think this is the best comeback they could've made, even if on my own preference list, it lies in the middle.
A true testament to just how fantastic this album is.
Premiering as a single on Jan. 18 via YouTube and amassing 3 million views on its official music video, this wonderfully misleading rock song incorporates a variety of techniques and styles from their past while at the same time giving listeners a peak of their future. It starts with a half a minute of orchestral music before strong grainy electric guitar takes over and Stump begins to sing. The lyrics hold some religious references, and the music video has an oddly Christmas-y atmosphere, but really any listener can't help but tap their foot with the cleverness and catchiness of the piece. It's repetitive not in a way that makes it boring, there are these unique sections of the piece – a slow one in the end, drum and guitar solos behind a "normal" chorus, the beautiful rock lead-out – that are simply spectacular and certain lyrics introduce you to themes you see later in the album, it's a magnificent introduction and way to bring back the true Fall Out Boy energy fans have missed.
This song also features on their upcoming tour's promotional videos and advertisements on YouTube.
Now, we're going to cover my personal favorite track: "Hold Me Like a Grudge."
This is one of the most old-school compared to the rest of the album along with "I Am My Own Muse." It incorporates loud electric guitar, bass and drums supported by equally gruff and scratchy vocals whose lyrics are sharp and "emo" like some of their earlier albums. Musically, the song is rather simple, repeating and building on other layers rather than introducing new instrumental motifs throughout, but this three-and-a-half-minute song could not be described as anything but golden. Its lyrics are this optimistic yet pessimistic plea to have someone, to be held "like a grudge" while also talking about how life is about having fun – it contradicts itself, it's enjoyable, it's old-school, this is a fan favorite for many of those who have listened to it.
There's an interesting part around halfway through the song that I feel should be mentioned separately. It takes a complete 180 and for only maybe 15 seconds it has the energy of a fiddle song turned rock and roll, a bridge towards the end to change up the flow, which is one of the parts I like the most. A speedy clapping sound takes over keeping the tempo as opposed to the slower bass guitar reminding me of something akin to Natalie MacMaster's music, the lyrics changing up and getting faster too to follow the backing – and then it's right back to what it was before. 15 seconds, then right back to as it was before.
This is one of the three songs on the album to have an official music video which premiered March 24, also on YouTube. The video has over a million views and is almost 5 minutes long.
It's so versatile, I've listened to it for hours and it's the first song I recommend; very worth the listen.
There are two songs, however, that do combat for least favorite on the list.
They're hard to qualify as songs, more like beat poetry in a sense, a minute of speaking with an instrumental backing. "The Pink Seashell (feat. Ethan Hawke)" is made up of two layers, an interview with actor Hawke and a dramatic orchestral-rock backing. Hawke speaks about his father's passing and the meaning of life. In "Baby Annihilation," this same set up is repeated, though this time guitarist Wentz is reading a poem, also covering the meaning of life, while a less intense instrumental backtrack plays.
The pieces are good, they're deep and meaningful, but not for me.
Still on the topic of favorites though, my number two song – it combats for first really – is "Fake Out."
Fourth on So Much (For) Stardust, these three-and-a-half minutes are honestly some of the most enjoyable, to me at least, in this whole album. There are so many songs that will make listeners dance and scream the lyrics at the top of their lungs, there's no arguing that fact, but the smooth pop style infused with the drums of traditional Fall Out Boy in this song specifically is a different kind of amazing.
Not only that, but the lyrics are relatable, easy to learn, and it's impeccably loop-able, which few bands and songs achieve. Since its release, I've probably listened to it a hundred times over, which simply goes to show that fact. This piece's story covers that of social anxiety and the overthinking that goes into human interaction nowadays while still touching on the lovable parts of humanity and holding onto that upbeat energy the backing gives it. The balance of the instrumentals and vocals, the range of which said vocals hit, the comfortable tempo – all wrapped up into one out of this world song.
That and it's a great transition between the previous song "Hold Me Like a Grudge" and "Heaven, Iowa," an intense soulful piece much like MANIA's (the band's previous studio album, 2018) "Heaven's Gate" and "Church."
Lastly, the final track of this album is "So Much (For) Stardust," and I couldn't think of a better way to end their comeback than with this song.
Starting much like the beginning of So Much (For) Stardust, this fantastic finale starts with an orchestral segment before jumping into the hard punk-rock beats the band specializes in. From a musician's perspective and a listener's alike, there are many things that make this song so beautiful. The ascending chords in the chorus, the drum's part in the song holding a steady beat and still accentuating when the song changes, the lyricism (repeated sections from "Love From The Other Side" and new lyrics alike), the different distinct sections and how they transition between each other – it's superb. Not only that, but this piece is one you can loop, and it transitions incredibly smoothly with the first track if you were to loop the entire album, the fading out choral outro melding nicely with the orchestral introduction we heard 45 minutes previous.
In an interview, Wentz said, "I think it was a really fitting end for the record. There's this big orchestral moment in the beginning with the strings, and then it ends with a choir… and there are a lot of lyrics that are like bookends to 'Love From The Other Side,' so I think it's a cool way to end the record – our dialectical record," which frankly is a perfect way to describe this song as well as the first. Bookends, fitting.
An end, but not to it all, simply to this.
And there's so much I could talk about regarding the other songs too, if we had the time. The accidental early release of "Heartbreak Feels So Good," the distinct guitar style of "I Am My Own Muse," the modernity and dark undertones of "What a Time to Be Alive," the wind instrument highlight of "The Kintsugi Kid (Ten Years)," I could go on forever.
I'll spare you that, reader, for now.
To wrap this all up, So Much (For) Stardust, the comeback album of Fall Out Boy after a five-year hiatus, in my opinion is the most excellent exhibit of all the band has learned and perfected over their 22 years. It features contributions from their hardcore rock era and their more recent pop styles, it includes grand orchestral segments from the early 2000s and EDM instruments like they did in MANIA, guitar solos and drum solos that can only be described as "sick" are threaded throughout – it's amazing. The album has a bit of everything for new fans, old fans and everything in between.
Wonderful.
The band and all their music can be found on all streaming platforms, including but not limited to Spotify, YouTube and more. Below is my personal ranking of the album from favorite to least favorite but take a listen and create one for yourself, you won't regret it.
Hold Me Like a Grudge
Fake Out
Heartbreak Feels So Good
So Much (For) Stardust
Heaven, Iowa
Love From The Other Side
Flu Game
I Am My Own Muse
So Good Right Now
The Kintsugi Kid (Ten Years)
What a Time To Be Alive
The Pink Seashell (feat. Ethan Hawke)
Baby Annihilation