Official teasers for Hozier's Unreal Unearth has fans overjoyed
Hozier teased his upcoming album with the release of single Swan Upon Leda.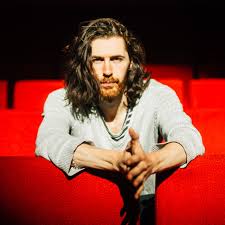 With the return of the fall season comes the return of internet-dubbed "Autumn King" musician Hozier with teasers for his new album Unreal Unearth, set to release sometime before the end of 2022. With one fully released single from the album and another four-minute teaser revealed in a TikTok video, fans new and old are getting excited for his first full studio album since Wasteland, Baby! back in 2019.
Entering the music scene in 2008, Irish soul-folk singer Andrew John Hozier-Byrne – known publicly as Hozier – has been making music for the past 14 years, producing two full studio albums and multiple EPs along his journey. Some of the most popular songs in his discography are Take Me to Church (2013), Cherry Wine (2014) and From Eden (2014), the first of which rocketed his career into a whole new realm as the song itself became certified multi-platinum in a variety of countries.
His extensive and continuous use of religious and literary themes to tell grand stories along with the inherent activism rooted in his lyrics have won him honors such as 2015 BBC Music Awards "Song of the Year" for Take Me to Church, 2015 Billboard Music Awards "Top Rock Artist" and "Top Rock Song" also for Take Me to Church, and among others the 2016 Silver Clef Award "International Award."
As an avid Hozier fan, myself, I can say this album to come will be nothing but extraordinary, if the teaser for unofficially titled song Unknown (Angel to Me) released Sept. 28 and single Swan Upon Leda, released Oct. 7 have anything to say about it – and they say a lot more than one might think.
These songs are the same Hozier we've come to know and love, the one who sings ballads and poems as he plays the guitar. This pair of tracks implements the same Hozier way he tells bittersweet soulful stories and highlights the struggles and successes of love, of life itself, and there is only more to come.
But instead of diving into hypotheticals, into songs that only exist in the studio and not yet to the world – let's take a look at what he has released and why it's so worth the listen.
Firstly, Unknown (Angel to Me); This is the four-minute track which the musician revealed in a TikTok, simply set up and performed with a microphone, his headphones and an electric guitar in what appears to be his home. Comfortable, bittersweet, loving in a sullen way: that is how I would describe this song. It covers the difficulties and triumphs of long-distance relationships and the reason humans seek love itself, starting the song with a simple line "You know the distance never made a difference to me," something that simultaneously broke the hearts and healed so many Hozier enthusiasts who have been waiting on this album for years.
This song reached an audience of 1.7 million based on the views from the video alone, with a majority of the near seven thousand simply thanking him for this song's existence and for the feelings it brought out of listeners.
The second and only other teaser-release from this album to come is official song Swan Upon Leda which tells so many multifaceted stories from all around the world in just three minutes and 43 seconds, on YouTube at a collective near 600 thousand views. This soulful acoustic yet orchestral all the same piece is a reflection on the oppression women specifically have faced since the dawn of time, since the forming of humanity itself whether it be rooted deep in the ancient Greek mythos of Leda and Zeus or the overturning of Roe v. Wade over the summer in the United States and global abortion rights as a whole.
TikToker Eldon James Warner – known as @eldonipepperoni on the platform – made a comment on this song in a recent video in a way that stuck so well with not only me but also many others, saying how as a man, while not toxically masculine himself, this song made him feel the bone-deep need to "apologize to every woman ever on the account of men," a direct showing of how music like this is not only powerful but essential.
While it can be seen as nothing more than a well-worded "pretty song" to those who don't want to see it as anything more, it also tells a story for so many who cannot tell the stories for themselves, or for those who have tried time and time again but somehow still aren't heard and it has power. Words have power, and for a figure as big in the music industry as Hozier to continue to use his power for advocacy like he has in previous songs, it means so much to so many.
That and the music is beautiful, if that wasn't obvious. It's beautiful.
And Hozier fans everywhere can't wait to hear more when the full album releases.