Despite holiday surge, Lakewood COVID cases remain low
Lakewood, which has a smaller population compared to other high schools, has managed to keep the number of coronavirus cases down.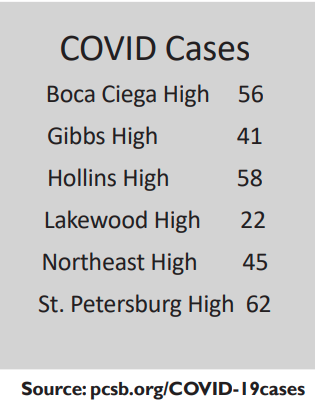 Lakewood High School has had 22 to[1]tal cases of COVID – 20 students and two staff – since the start of the school year.
The COVID numbers for in-person school are as follows: one in September; one in October; one in November; two in December, 14 in January and three in February.
The number jump in January was largely due to students getting COVID over the holidays and it was not able to be measured until they all came back to school. According to the school district's COVID information page, 11 students tested positive for the coronavirus between Jan. 2 and Jan. 12.
So far, no students in the school have gotten extremely sick from the virus, principal Erin Savage said.
"The most common symptoms I have heard from the cases at Lakewood are runny nose and loss of smell/taste. I have heard much worse from people that I know in the community," she said.
Despite the rise in numbers, more and more students are coming back to school, which also may be a reason more students are getting COVID-19 every month. Lakewood started the school year with 450 in-person students. As of mid-February, there were 716 face-to face students.
"The rise of COVID is very daunting and stressful, especially for the people considering going back to school," said sophomore Delaney Greeno, who started the school year online and is now face to face. "(But) as someone who has a very hard time focusing, it's very relieving to go back and get more hands-on learning and be able to understand concepts better, especially in more rigorous courses such as math."
According to the school district's COVID information web page, Lakewood has the fewest number of cases compared to all the high schools in the city, while St. Petersburg High has the highest number of cases in the city, with 62 cases.
One side effect of the worry and stress over COVID has been mental health. The pandemic is a little over a year old now, and people are still worried about the uncertainty, Savage said.
"I definitely have seen a change in both students and staff. I believe if COVID-19 has touched you personally … you look at it differently than someone who hasn't been exposed at all," Savage said.
Savage said her frustration has come with students who are not respecting the safety rules involving masks and social distancing.
"I am always concerned about things I cannot personally control," Savage said. "I can talk until I'm blue in the face about the importance of masks, hand washing, social distancing, but if a person doesn't value their own health, they certain aren't going to value the lives of others."