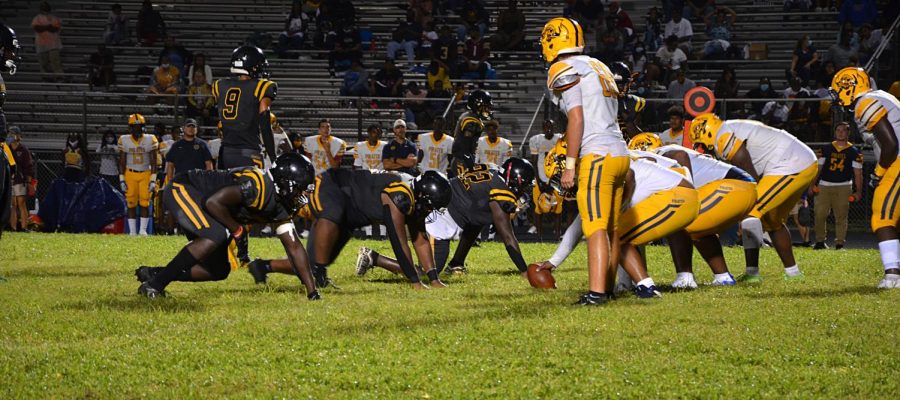 DESTINI GONZALEZ
Despite some obstacles, week three concluded and Lakewood High School's football team continues to conquer on the field. Even COVID-19 didn't stop the Spartans.
In the first week, the Spartans went up against the Gibbs Gladiators. With it being the first game of the new season, initial expectations started to emerge on whether the team would produce on the same level as previous seasons.
But the Spartans didn't disappoint, bringing high energy and spirits from the start of their pre-game rituals. Every player from every position proved the doubters wrong, and they had a successful season opener, ending the game 42-0.
Running back Jaylen Thompson scored two touchdowns, while wide receivers Artez Hooker Terrel Crosby and running backs Zyon Jerger and Joe Jackson scored one each. In addition, punter Nathaniel Sosa-Jones scored a point off of a kick, kicker Philip Pierre scored three points off of a kick, and defensive tackle Jaden Ledbetter scored two points off of a safety.
"The team did a great job rising to the occasion. (It was their) first game, a lot of adversity. They pulled together and put a great game on," head football coach Cory Moore said.
In week two, the Spartans went up against the Boca Ciega Pirates.
"The mindset going into the game was to dominate the details. We also wanted to finish," Moore said.
In the end, it was another blow-out win, 40-6. Wide receiver Lutarus Adams, Hooker, linebacker Pharee Reed and defensive back Mike Evans each scored a touchdown, while Thompson again scored two touchdowns.
In week three, the Spartans went up against Braden River High School. The Spartans beat them last season by 18, and this year the Spartans finished that game 10-3.
So far this season, the one word that would describe this year's Spartans would be hungry. They seemed hungry and eager to prove themselves, hungry and eager for some real competition – but from the looks of the scoreboard at the end of each fourth quarter Gibbs, Boca Ciega and Braden River weren't it.
The team had a successful first three weeks and they have no plan on stopping their run of wins. With any great team comes tweaks and adjustments. But the way the Spartans played the last three weeks, there isn't a lot to change.
"We should work on staying disciplined as a team and fixing the little things like penalties," senior Aumhryaun Brown said.
The main challenge this season, for football as well as all sports, is the coronavirus. For starters the stadium could only be filled to 25% capacity, which meant lots of empty seats that usually would be filled. Next, there was no band.
"It was a bit different, because I'm used to a more lively atmosphere," Hooker said.
But that was just the difference in audience members, the players and coaches saw other differences.
"The (players) had to drink from plastic cups. They didn't have bottles to drink out of. The players had to wear masks on the sidelines, and they still want us to implement social distancing," Moore said
Will this year's team go as far as they did last season? Stay tuned, the season is just getting started.
"I think we're going to have an amazing season. You'll never ever see us like this again. This is definitely a season for the history books," Moore said.
The Spartans face Osceola High School on Oct. 15 at home.